Btcrobot.com Trading Bot Review
The robot is analyzing the prices in all Bitcoin exchange marketplaces in real time, exploiting the gaps and using two different trading strategies to take advantage of profit opportunities. Let's see together what BTC Robot can offer on the automated crypto trading market.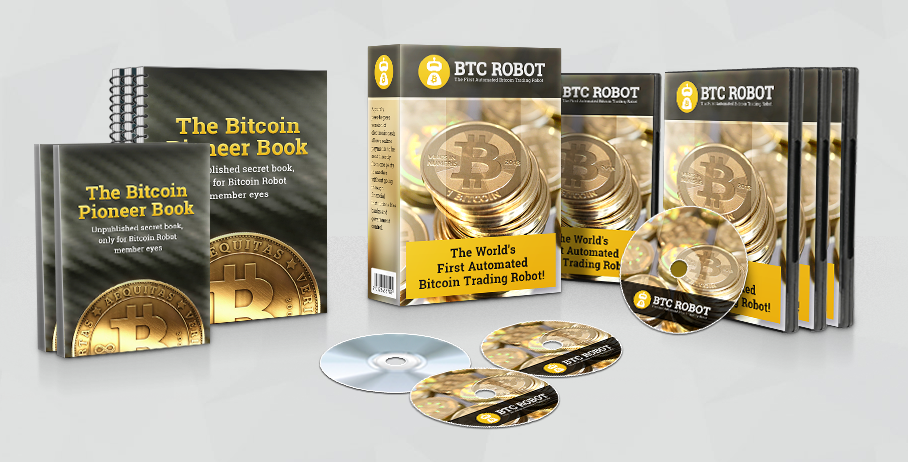 About BTC Robot
According to the website, BTC Robot has been started as a united effort of the brightest Bitcoin traders and programmers from Russia. It took them 2 years of development through trial and error to arrive at the current version which has over 3800 lines of code. They have tested the robot in private groups before releasing to the public.
Beyond this, we do not learn more about the creators of the site. They first appeared one of the Bitcoin Talk forum threads in August 2013 which makes them the oldest trading robot on the market based on the date. The sad truth is that even back then the way the site was constructed along with the information available, many users started to question the legitimacy of the platform at start.
The development team has been listed on the site with the following names and pictures. However digging into the details a bit more, it seems like these are just fake profile. The man's picture seems to belong to a Russian developer, named Oleg. While the last picture of Anna claimed to be a cam girl according to the Bitcoin Talk forum users. And the person posting on Bitcoin Talk even admin this:
"Yes, the team uses pen names and put google images as our pics for obvious privacy reasons. Nobody puts their real pics in bitcoin."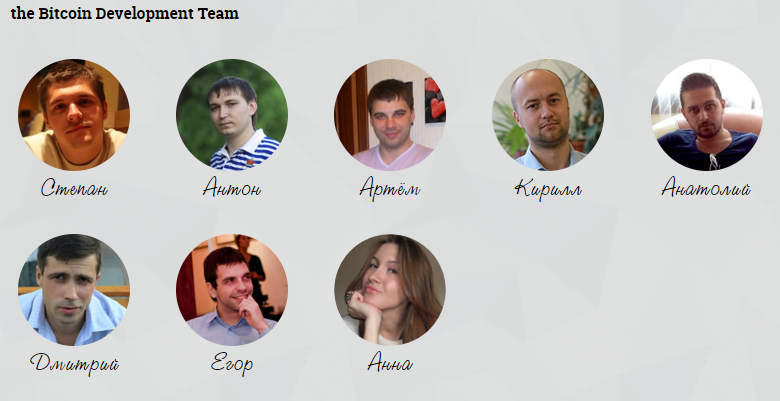 Services on BTC Robot
BTC Robot offers a special trading bot license which enables you to connect any Metatrader 4 (MT4) broker account which offers Bitcoin as an option, specifically the BTC/USD trading pair. They have a recommended provider, FXChoice, but you are not limited to this broker, you can connect any MT4 broker you wish to BTC Robot.

In order to use BTC Robot, you need to register at a forex broker and add an initial deposit. BTC Robot says you can even start trading with as low as $100 or Bitcoin equivalent, but they also recommend you trade with at least $500 for good profits.  You can fund your broker account with Bitcoins or USD, EUR, GBP or any other currency that your broker accepts. Most MT4 brokers offer various payment methods, the details of which can be found on their individual websites.
If you choose their preferred brokerage provider, FXChoice, the BTC Robot is already pre-installed inside the MT4 platform. Otherwise, you need to download the program and have it installed on your desktop to be able to connect it to MT4. The setup is easy and automated.
Usually, Bitcoin trading bots are connected directly to Bitcoin exchanges. BTC Robot is different in a way that it is connected to a broker account, where Bitcoin trading is available as a tradable instrument. Note in this case you are not actually trading with Bitcoin directly, only with a CFD contract, which mimics the price of the underlying instrument, in this case, Bitcoin.

It is explicitly written on the site that there are no backtesting options or what-if scenarios available in BTC Robot. They claim this is to prove that it is working under real market conditions, however, it raises questions about the results, whether the strategies would indeed work out as presented.
There is no guarantee from BTC Robot's side that you will be earning money with this trading bot, they specify it clearly, that you can have both winning and losing trades.
There is no real information on the website about how the algorithm work, they do not even list any strategies to see what the trading robot is doing. What is known that it uses a 'special trade stealth technology' and it is effective, even if many people trade it independently.
Pricing of BTC Robot
BTC Robot has three different packages. The Silver plan cost $19.99 monthly that lets you run BTC Robot on a single MT4 broker instance. In the Gold plan, for $39.99 monthly payment you can connect BTC Robot to two brokers:  to their preferred broker, FxChoice, as well as one MT4 broker of your choice. The Platinum plan has a one time fee of $399 which lets you run BTC Robot on four different brokers and includes personal one-to-one support.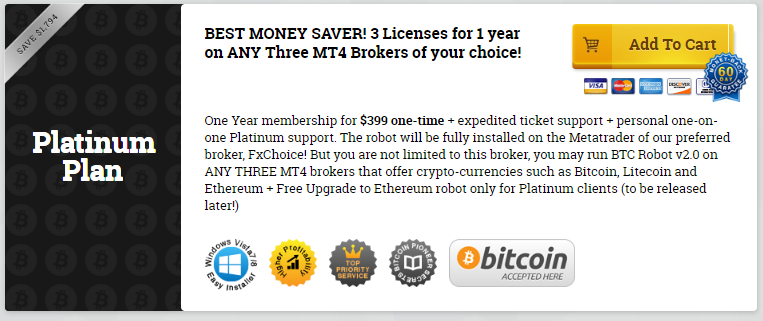 The prices of BTC Robot are in the medium range on the trading bot market although other service providers do not offer such services that you can connect a trading bot to MT4 platforms.
There are no further fees applicable when you purchase the license for BTC Robot. They have zero commissions on earnings and you do not need to share profits with them. Only the monthly, or in case of the Platinum plan, the one-time fee is payable upon registration and the rest of the earnings you can keep to yourself.
You can pay with various credit cards at BTC Robot, including VISA, Mastercard and American Express and they also accept Bitcoin as payment. If you are not satisfied for any reason you can use their 60-day money back guarantee to reclaim your money.

User Experience on BTC Robot
BTC Robot website starts with a long sales promotion where they try to convince you about the benefits of Bitcoin and trading with cryptocurrencies. There are a lot of videos talking about what is Bitcoin and what is the profit potential of this new asset class referencing various prestigious sources, like Bloomberg financial TV.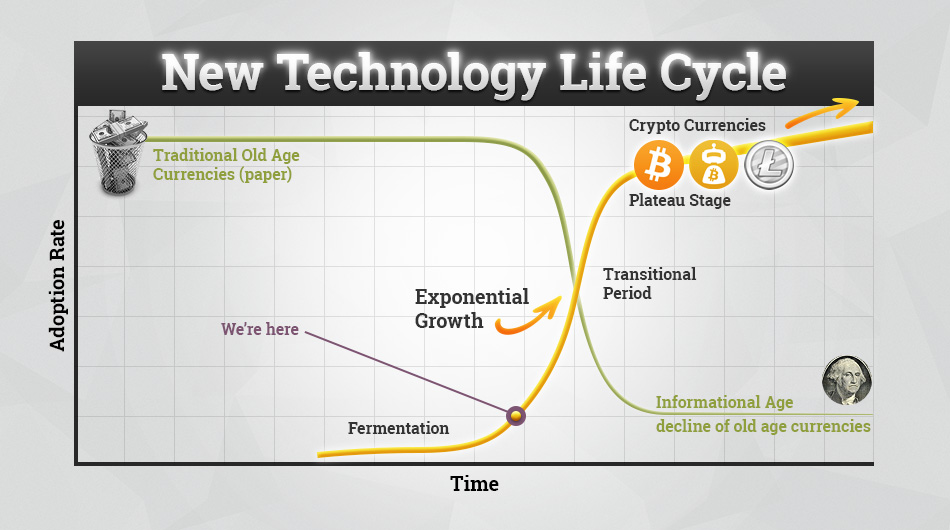 Although there seems to be a lot of information, the site mainly speaks about the potential profit you can achieve with Bitcoin, comparing it to forex and how cryptocurrencies may revolutionize the world in the future. The site does not really tell us anything about how the trading bot works, which strategies it uses and overall what is the profit potential of the trading robot itself.
BTC Robot 2.0 is mainly designed to run on most popular versions of Windows, such as XP, Vista, Win 7, Win 8.x and Win 10+. If you have a Mac, then they suggest you sign up for a VPS at FxChoice, you can easily run our BTC Robot 2.0 and monitor it remotely from your Mac.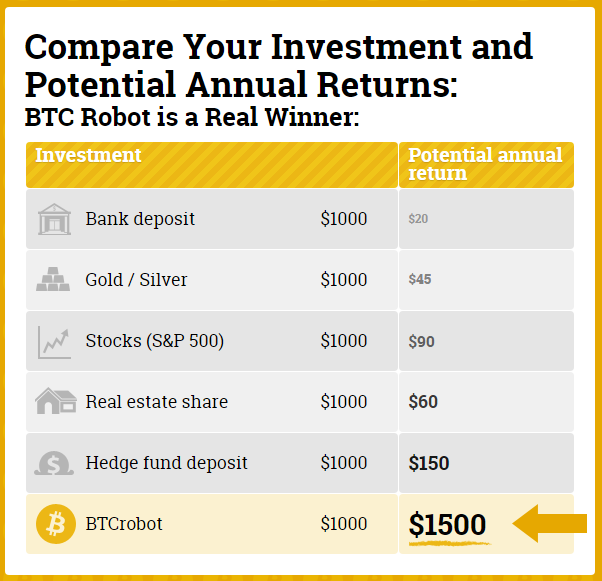 If you need to reach them for any reason, you can contact them by email.
According to the user feedback around the internet, a couple of people have burnt themselves already and lost some money. Although it is not explicitly a scam as some claim, those who have used the software and put some money reported that the algorithm just not working as it supposed to be and it is generating losses. Since you cannot test it you can only rely on the 60 days money-back guarantee, which is fairly risky taking into consideration all of the above-mentioned details.
Conclusion
Although BTC Robot is not offering explicitly a get-rich-quick scheme, at the end of the line they have a product which you cannot test our or prove the profitability of it. The site has been around for quite some time now, so it is possible some sort of service is provided by them, however the set, up of the website and the reviews you can read online raised a lot of red flags, so use it only with caution.
Pros
can be linked to forex trading platforms, like MT4
relatively cheap prices
online since 2013
Cons
no information about the team or how the algorithm work
several negative reviews
no backtesting or demo