Apitrade.pro Trading Bot Review
Apitrade.pro review
Apitrade is an automated cryptocurrency trading platform which makes trading crypto on exchanges completely automatically. The trading robot trades on various cryptocurrency exchanges on behalf of you to make profitable trades in every minute, even when you sleep.

About Apitrade.pro
According to the 'About us' section on the site, the founders of Apitrade have over 10 years of experience in developing complex systems for financial services and stock exchanges. They are aware of the needs and specialties a highly loaded system have to cope with and designed Apitrade to bring the best out of this. They have invested all of their knowledge and experience when developed ApiTrades innovative service.
The announcement thread on BitcoinTalk started in April 2018 for Apitrade. Based on this you can find that the company behind the operations is TNX Corporation, registered in the United States and -according to the announcement – it is successfully operating in the online market for more than 10 years.
Dmitry Sazonov, the founder and currently the Chief Technology Officer of the ApiTrade service, was recognized as the "Person of the Year in E-Commerce" by Rambler in 2004. Dmitry Samorukov is in charge of development (previously he led the development of such projects as Moneyman, Carfix.ru, ApiShops, etc.). Among the developments of this team are such projects as, ApiShops.com, Context.ApiShops.com, ApiPay.pro, Liex.ru, iDomen.ru, Retorno.ru according to this site.
Their telegram channel has over 30,000 users and they have a Discord account. Around 11k followers follow Apitrade on Facebook, where they only have a couple of posts, most of them are written in Russian.
Services on Apitrade.pro
The trading bot is for beginners. There is no need to set up any parameters and you also do not need to control constantly what is going on on the account. If you want you can switch off some algorithms, as well as add certain coins to a blacklist. The default settings are optimal from the start and you don't have to change anything.

Apitrade's system is designed to build a small but stable income based on low-risk algorithms. The trading robot performs thousands of unique operation in the background for each user to execute trades automatically on cryptocurrency exchanges.
The platform automatically identifies differences between the exchanges and execute the trades on your behalf.
According to the promises, ApiTrade makes on average 0.01-0.5% profit (including the fees charged by exchanges). If compounded together this can result into a significant amount of passive revenue in the long run.
They employ a so-called 'tsunami algorithm' which is a complex learning system that is to catch most of the" pump" coins (where the price of the coin is rising sharply) at the beginning of the pump to earn an extra profit during the time of high volatility.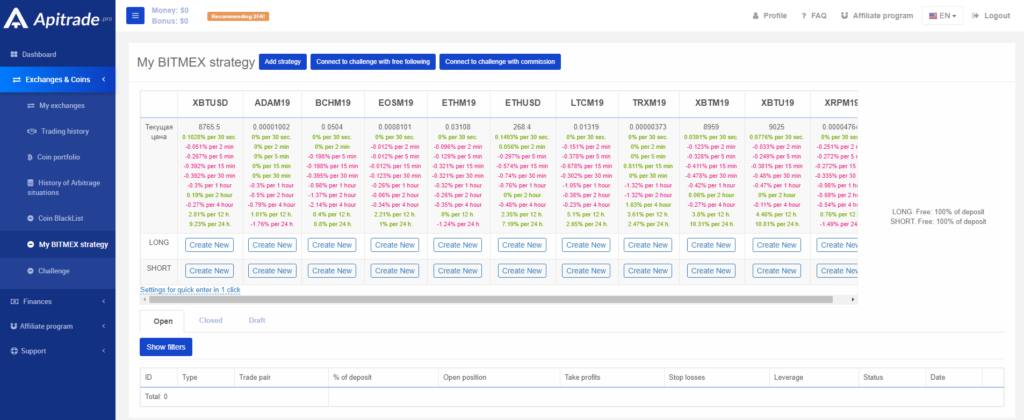 In order to sign up at Apitrade, you need to provide a user name, email, and password. If you want you can also provide a telegram name which will ease your communication with the platform in the future if needed.
Although on the site you read, that there are 25 crypto exchanges who provide crypto prices via API interface in real time, for auto-trading and arbitrage modes, you can only use the following crypto four exchanges: Binance, Huobi, Kucoin, Okex. Hopefully, more exchanges will be added soon, although in the FAQ they say they are more than happy to add more exchanges by request, but most of them are not good enough to handle serious clientele – according to them. This is a fairly low amount of exchanges to trade with, compared to other trading bots.
Beyond providing the API key and the secret key to your crypto exchange account you need to fund the accounts on the exchanges – but not on Apitrade's platform! Apitrade does not store any of your funds. There is no minimum deposit apart from what an exchange might require, but they suggest to have at least 0.1BTC available on each account to make sure you can benefit from the price movements.
As for maximum deposits, Apitrade is limited to trade with 5 BTC. This is to ensure that the trading robot does not create unnecessary volatility on the market. Furthermore, if you plan to trade with more than $5000 reach out to the support to get a discount on the automated profit-sharing fee.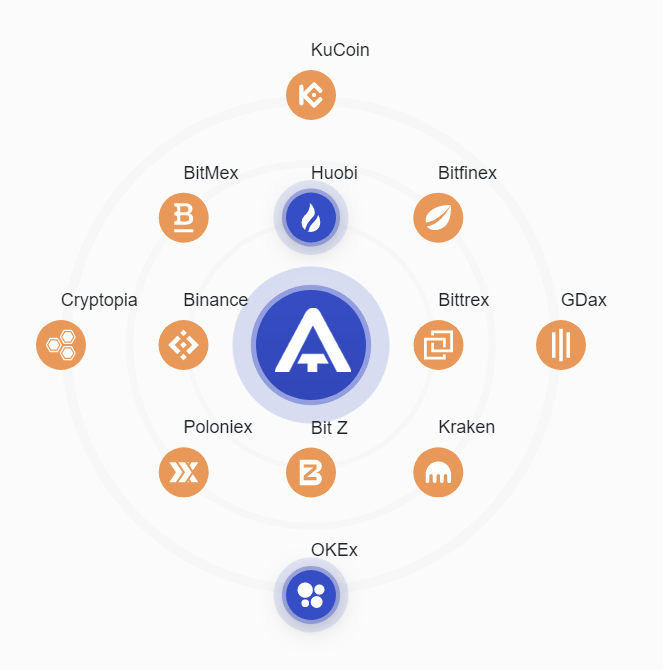 Pricing of Apritrade.pro
Apitrade charges no monthly fees or commissions for cryptocurrency trading that you do manually through ApiTrade, this option is free of charge. You can see the exchange prices in one single window and execute a trade on one of the exchange you want with one click – this is the manual trading option.
The platform makes money from autotrading and arbitration services. Apitrade gets 50% of all profits generated from trades on your account and you only need to pay the fees after you have made a profitable deal. The profit sharing model is popular among the trading bot services, but the 50% is a relatively high fee compared to other platforms.
User experience on Apritrade.pro
ApiTrade focuses on user-friendliness and simplicity. Their aim is to help anyone, whether beginner or advanced to use autotrading in exchanges without having any prior knowledge or experience with professional trading. Instead of displaying lots of settings/parameters, the bot automatically tunes these for trading based on the automatic analysis of efficiency and machine learning.
You can switch the translation of the platform between 8 different languages: English, Russian, German, Spanish, Frech, Chinese, Japanese and Korean versions of the dashboard are available.
Apitrade does not accept deposits, does not store your funds and do not have access to your funds at the exchanges. Additionally, you can also set 2FA on the platform to secure your account. This ensures that your funds are safe at your account on the exchanges.
One of the users shared his earnings progress and during the month he was looking at it on average 1-2% profit came out every day. This is an extremely high profit if you compound it for the long run. He suggests as the service has some live users, check with them in telegram groups, especially to those who are going to write that it is a scam. Look at the screenshots and read the discussions in the group, and then, objectively assess and draw your own conclusions. In fact, the service does not have access to the withdrawal of your funds from the exchange and does not require a fee for use, you pay the service half of the profit gained during the operation of the algorithms.
For any reason, if you are not satisfied Apitrade has 7 days money-back guarantee which means you can get 100% of your money back if you are unsatisfied with the service. If you have any questions, Apitrade can be reached through Telegram chat.
Conclusion
Apitrade is offering autotrading and arbitrage trading opportunity between four cryptocurrency exchanges. The percentage of profit sharing is a bit high compared to other service providers, but you only have to pay fee for the service if there is a profitable transaction. Their machine learning algorithm helps you to profit from pump and dump schemes which just appeared on the market, but if you want you can also exclude certain costs through the backlist if you do not want to trade with them. There are not too much online opinions about Apitrade available and their activity on social media channels seems to be quiet too. If you trust them for an initial deal, make sure you only trade with as much you can afford to lose.
Pros
no monthly fee
option to backlist coins
free manual trading option
Cons
high profit sharing fee (50%)
only 4 exchanges are supported
relatively new service with no track record