Cryptohopper.com Trading Bot Review
Cryptohopper
Trade automatically, 24/7, based on your technical indicators or subscribe to one of our signalers. Cryptohopper is a powerful crypto trading bot that trades for you!
About Cryptohopper
According to the story, Crypthoopper has been started by two brothers: a day trader and a web developer. The original idea was based on a raspberry pi device which was able to trade 24/7. Since as time passed more and more family members and friends were asking them to use the bot, they finally ended up building the service and letting it available for public usage.
Cryptohopper is based in Amsterdam, in the Netherlands. The company behind the platform is Cryptohopper BV with the registered address based in Johan van Hasseltweg 18A 1022 WV,  Amsterdam, The Netherlands. Although the company is listed on their site, they do not share the owners and directors of the platform to the public.
They are pretty active on various social media channels. They have more than 4k follower on Facebook and Twitter, run a Youtube channel and also posting actively to Instagram. Cryptohopper has a unique Telegram channel you can join and you can also follow their posts on Medium.
Services on Cryptohopper
Cryptohopper has been designed for beginners. You can setup your account, no need to know anything about crypto or coding and you can start using the platform. Knowledge of trading could be useful to understand how the strategy (or as they call it hopper) you choose.
Registering at Cryptohooper is very easy. You just need a username, email address, and password, and within moments you will have an account already set-up with your very own simulator. After signing up there is a quick navigation tour to get around the platform easily.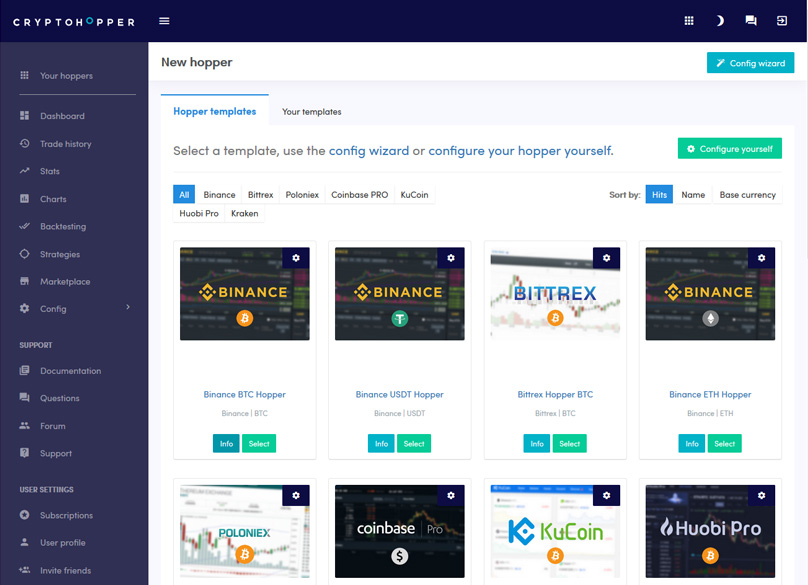 There is no minimum deposit on the site, but they advise to place €20-40 worth of Bitcoin on your Poloniex account to start testing out the platform. For optimal results, they suggest a minimum deposit of €300,- on Poloniex or Kraken. This way, your Hopper has enough space to open multiple positions and to spread the risk.
They offer paper trading options so you can try out the features without using real money or connect any exchange accounts. The simulation is connected to Binance and trading with bitcoin in live time. Historical backtesting is also available at the platform.
The automatic trading options takes away the emotional part of trading which would stop you from gaining profits due to panic selling or FOMO. There are 130+ indicators and candlestick patterns are used in the trading bot to identify the best market opportunities.
Depending on the package you choose there are up to 75 coins which you can track and scan against your goals. In total 9 global exchanges can be connected to Cryptohopper, including Huobi, Binance, Poloniex, Bittrex, Coinbase Pro, Kraken, Bitfinex, Kucoin, and Cryptopia via their API's.
Social trading options are also available on Cryptohopper under the market place. Professional traders can apply to become marketplace sellers or signalers. Each applicant is screened by Cryptohopper staff on their knowledge, previous experience, and intentions as sellers. Crypto signals are sent by third-party technical analysts working hard to pinpoint on-the-rise coins. Once they have spotted a promising investment, they share that knowledge with anyone subscribed to them.
Cryptohopper also offers some trading tools which can help you both during bear and bull markets. The trailing stop features can be used across multiple exchanges at the same time. The dollar cost of averaging allows you to mitigate the price risk in the long run for an asset. You can also short sell your coins on any market with Cryptohopper.
The platform does not guarantee any profit and makes it clear that cryptocurrency prices can be very volatile. The current statistics of your portfolio is available on the dashboard where you can set various data aspects such as based currency, triggers, coins to see the most relevant data you need.
Pricing of Cryptohopper
Cryptohopper offers 3 different packages you can choose from with a 7 day free trial period. The packages cost $19-$99 monthly with allowing you to enter into minimum 80 positions during a month, up to 75 selected voices. All of the packages allow you to "paper trade", so just follow the market movements with dummy money, without effectively risking any capital. This is a great option to test the revenue generating power of an arbitrage strategy.
There is no additional trading fee on Cryptohopper applicable beyond the monthly fee, which is a really good benefit compared to other trading bots, which takes additional fees beyond the trading fees you pay at the exchanges.
Cryptohopper is one of the few bots which accept PayPal as payment, this is a huge pro. PayPal has its own protection system about goods and services provided, so in case you are not provided the service promised, you can always file a claim at PayPal to request a refund. Adding PayPal payment options highly increase the trustworthiness of a company. Additionally, you can also pay with various cryptos on the platform, including bitcoin, litecoin, dash, monero and many more.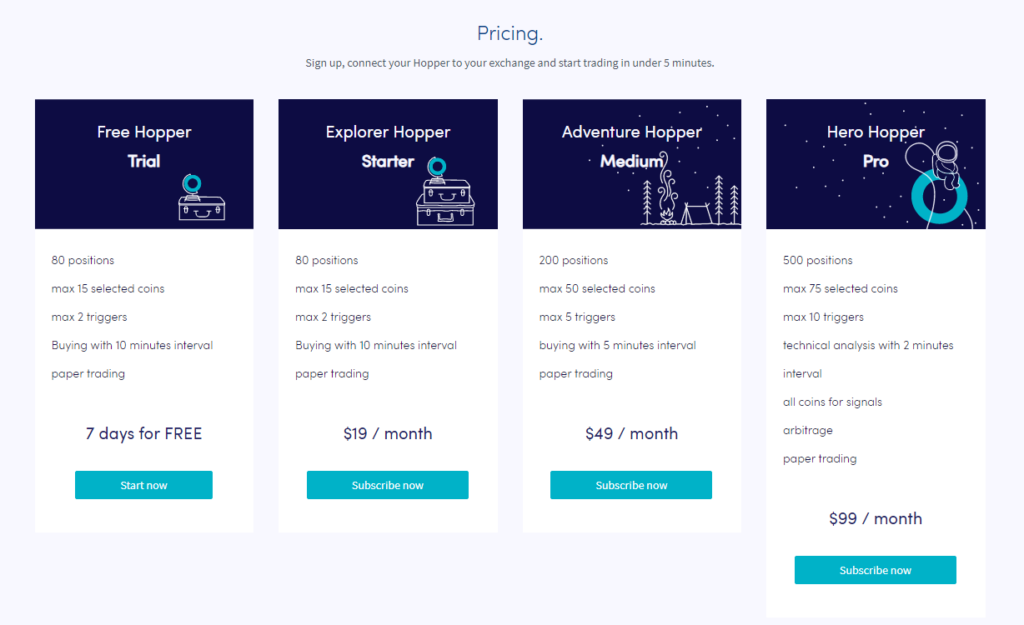 User Experience on Cryptohopper
Cryptohopper.com is neatly designed to provide the prospective and existing users all the information they need to use their services. The content is transparent and useful all over the site.
In terms of safety, Cryptohopper has no option to withdraw your funds. Your funds are held safely on your exchange to mitigate security risks. If you want to withdraw amounts from your exchange, you have to use the website of your exchange directly. This, combined with the 2FA and AWS hosting makes Cryptohopper a relatively safe place to use compared to other trading bot platforms.
You can contact Cryptohopper using the contact form on their page or sending them an email. If you want, you can chat it other users in the Reddit forum thread.
Conclusion
Cryptohopper does their best to offer a transparent trading solution who would like to do cryptocurrency trading in an automated way. The platform is well designed with all the relevant information available to get started within minutes after registration. Since you have the paper trading options, you can test out various strategies based on both historical and live trading data. The cost is relatively reasonable compared to other platforms making Cryptohopper a good solution for those who want to use crypto trading bots without any coding.
Pros
backtesting option
good pricing
no withdrawal option to the platform to increase safety
PayPal and crypto payment option
Cons
not widely know yet
beginner friendly, but some trading knowledge can be beneficial
information about the team is unknown