3commas.io Trading Bot Review

3Commas Review
Use the 3Commas trading terminal to automate your cryptocurrency trading and learn from the best traders in the industry. Suitable for both beginners and advanced users with the option to have this all for free to start! Let's see what is this smart trading platform offers beyond bots and portfolio management.

About 3Commas
3Commas is a complete cryptocurrency asset management platform. They offering a unified access point and interface with the world's top crypto exchanges. Their fully automated trade execution and portfolio management are supported by continuously evolving strategies, algorithms and risk management solutions.
The company is based in Toronto, Ontario, and has been founded in January of 2017 according to their Linkedin page. Their announcement thread appeared on in BitcoinTalk in March 2018.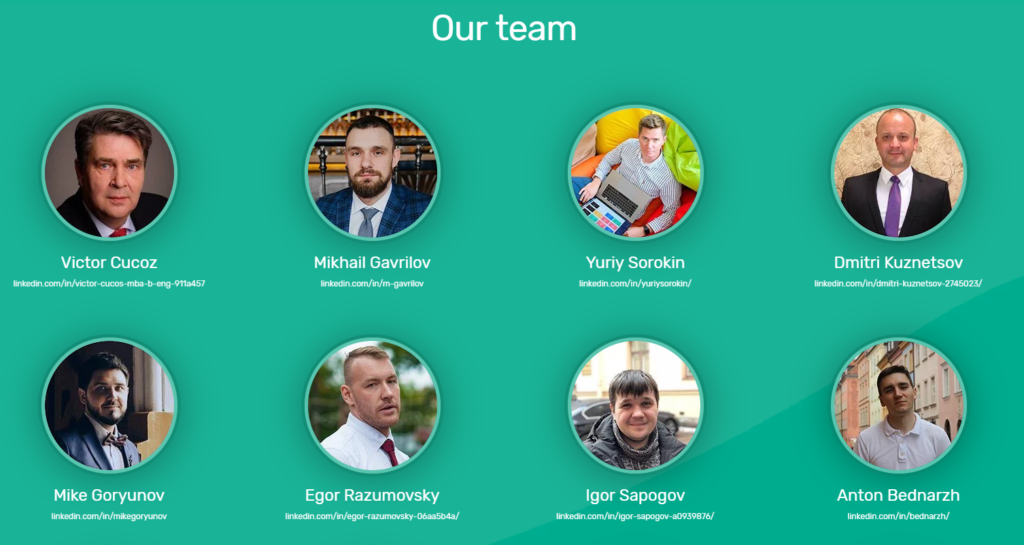 The company site list all of the 26 employees of 3Commas with complete Linkedin profile to get to know the team closer who are you dealing with. One of the founders are Yuriy Sorokin, a software engineer from the Russian Federation who has been serving as a CTO and COO in prior startup project and has been building mobile applications in the past. Victor Cucos serves as the Chief Strategy Officer, who has been working for several international management consulting firms during his past 20+ years experience.
3Commas has around 2500 followers on Twitter where they share mostly information relevant to the platform regarding new product and service releases. Similar information is shared on their Facebook profile, which is currently liked by around 700 fans. Their Youtube channel has 2500 subscribers where you can watch several interactive videos about how the platform work and what it can offer for you. In addition to this, in their blog, they share trading ideas which can benefit everyone.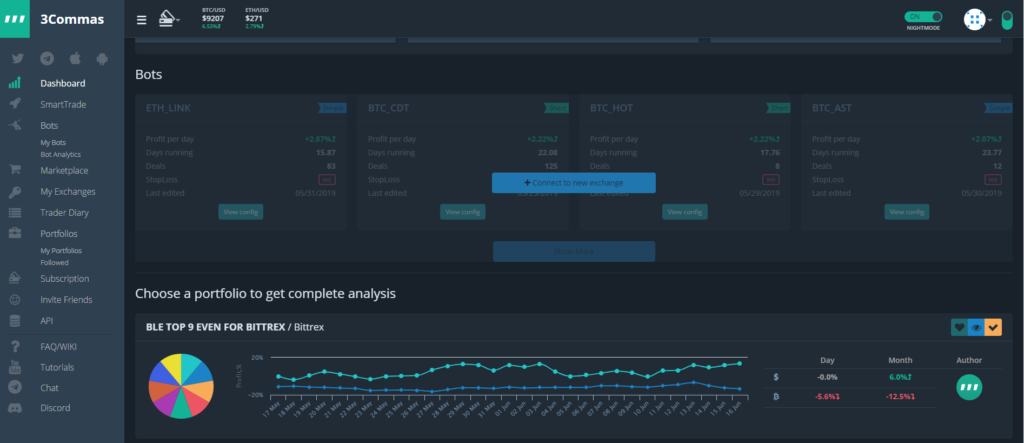 Services on 3Commas
3Commas is suitable for both beginner and advanced trader. There are a lot of different trading options you can choose from, ones are completely automated, you just need to push the start button, while if you prefer tweaking trades and strategies, you also have the option to do that.
The smart trading option allows you to trade Stop Loss and Take Profit order simultaneously. This feature lets you plan both buy & sell prices at the same time. You can set up Stop Loss and Take Profit conditions at the same time and even before any coin is purchased. You can set targets to maximize your profits automatically with trailing features. Trailing mechanism will follow the price and close your position with the best price possible, so you will not lose profit if your target was 10%, but the coin went up by 20%.
3Commas offer various trading signals you can plug in the bots. Use the ones available already in TradingView directly on 3Commas or build custom signals.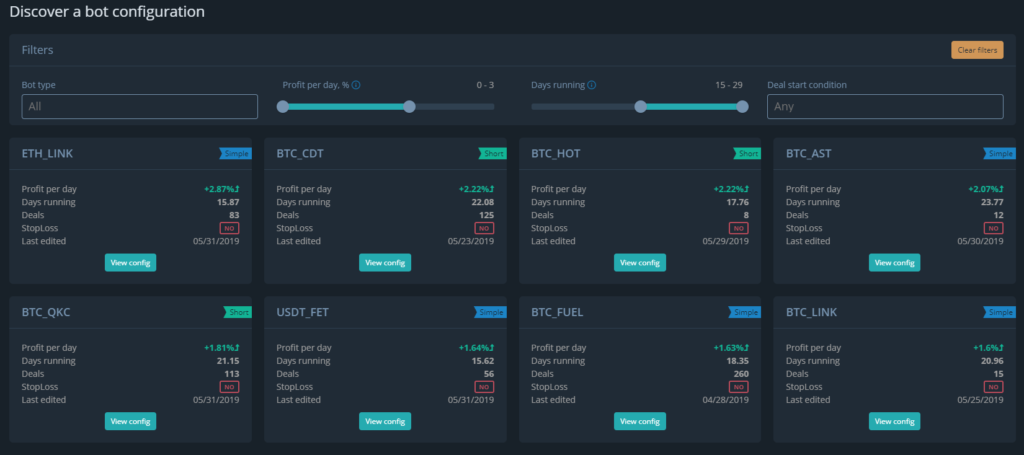 Both long and short bots are available on 3Commas, that executes trades in both bull and bear market. There are hundreds of bots you can choose from, select one which fits your trading vision the best. The most important details of the bots are summarized on the dashboard, including daily profits and how many days it has been running and how many deals it has been done. Furthermore, you can see all the relevant information of the bot, apart from the direct source code when you view the bot's page.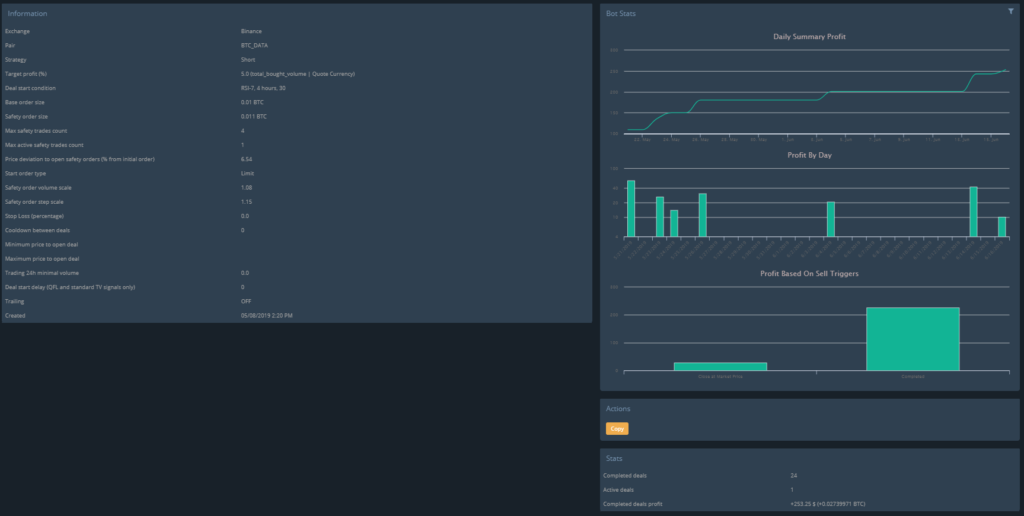 For beginner users, social trading makes it possible for new users to realize profits quickly by following more experience traders during their successful trading activity. Go to the bot analytics page and see the best performing bots and trading pairs all at once. In the marketplace, you can subscribe to other trader's strategies or offer your own for a monthly fee.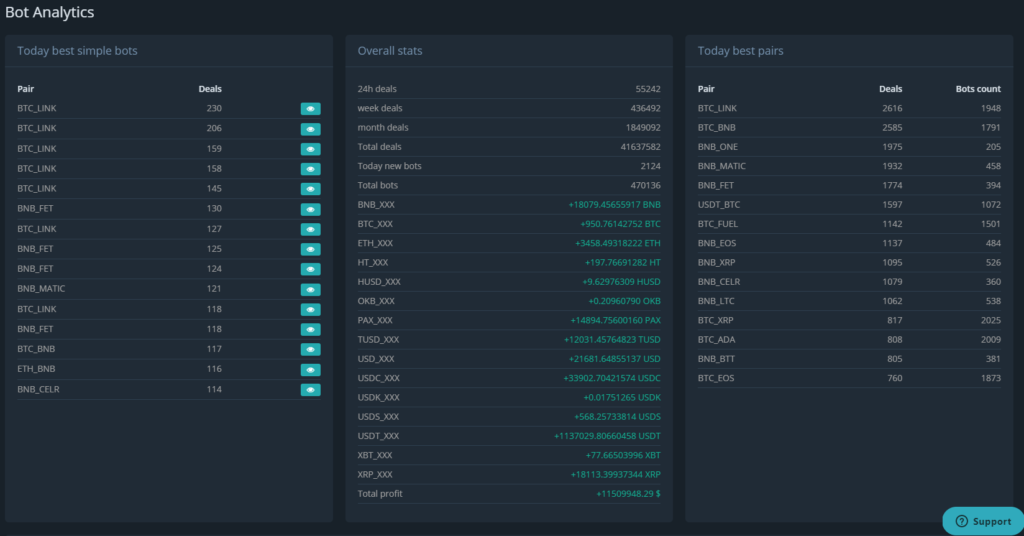 For advanced users, you can select bots with QFL method a technical analysis technique that requires a high level of patience and discipline – now completely automated. Composite bots allow you to manage your portfolio of multiple coins at the same time to have an optimal balance.
3Commas has access to 13 crypto exchanges, including the following platforms:
Bitmex
Bittrex
BitFinex
Binance
Bitstamp
KuCoin
Poloniex
HitBTC
Cex
Coinbase Pro
OKEX
Huobi
YOBIT
You can also sign up to these exchanges with one single click from the dashboard, which makes it very quick to connect even new accounts.


Pricing of 3Commas
Using 3Commas trading platform is completely free if:
you deposit less than 750 USD or
you a Huobi global user
They want to let everyone to start out the features 3Commas can offer, so you can begin using the trading bot with only a small amount of money. You will receive an email notification if total deposits on all exchanges exceeded $750. After 72h they will check your deposits once again. If the amount will still exceed $750, you should upgrade your subscription to a paid one. Otherwise, new deals will be not available.
Beyond the free plan, 3Commas offer 3 different packages which you can subscribe to which have a monthly subscription fee.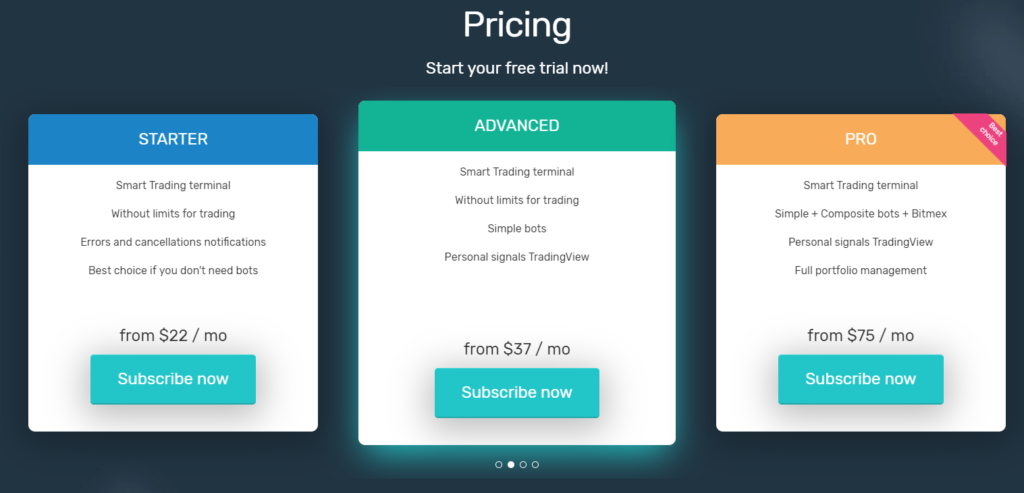 The STARTER plan cost $22/month let you manage your portfolio on several exchanges in one single screen. With the ADVANCED plan and a price of $37/month you also get access to simple bots and personal trading signals. The PRO plan for $75/month offers you both simple and composite bots, full portfolio management and the option to plug in your Bitmex account to the system. Compared to other bots, even the PRO plan is a relatively cheap price for the usage of the platform.
Beyond Bitcoin, you can also pay with Ethereum and Litecoin and furthermore PayPal, and credit cards, like Visa, Mastercard and Advcash are also accepted on 3commas. Offering PayPal and credit card payment method although removes the anonymity features cryptos can offer but their third-party guarantee system ensures you will receive the requested service.

User Experience on 3Commas
3Commas offers all the information you need to get started with trading bots. This is a beginner friendly platform which also has the option to use complex trading bots if you want to. They have a lot of different content about how the platform and strategies work. Interactive videos and gifs help both current and prospective users to get around the platform in a smooth way.
In addition to this, you can reach the trading platform on the go using their Android and iOS apps, which are a huge pro give here you can use notifications and finetune your bots even when you are not at your desktop.
If you need any help, you can go through their extensive FAQ section to find an answer to your questions. In case you need further help, you can submit a ticket or ask their support team on Telegram chat.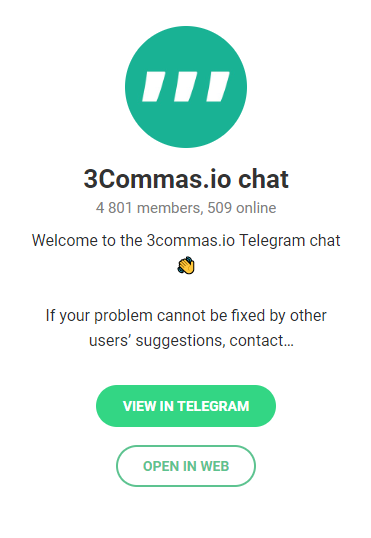 Conclusion
3Commas is a portfolio management platform for both beginners and advanced crypto traders. You can connect your account from 13 different exchanges and try out the features completely fee up to 750 USD balance. The additional plans have also reasonable prices especially if you consider the variety of bots the platform along with the copytrading options.
Pros
Android and iOS applications
reasonable prices
lot of exchanges are supported
Cons
no track record because it has been business for only a short period of time
too many options can be confusing to newbies