Haasonline Trading Bot Review
Haasonline review
Haasonline offers the option to fully automate your bitcoin and altcoin trading task using the major cryptocurrency exchanges. Beyond automating critical tasks you also have the opportunity to configure your bots according to your needs to make money how you always wanted: while you sleep.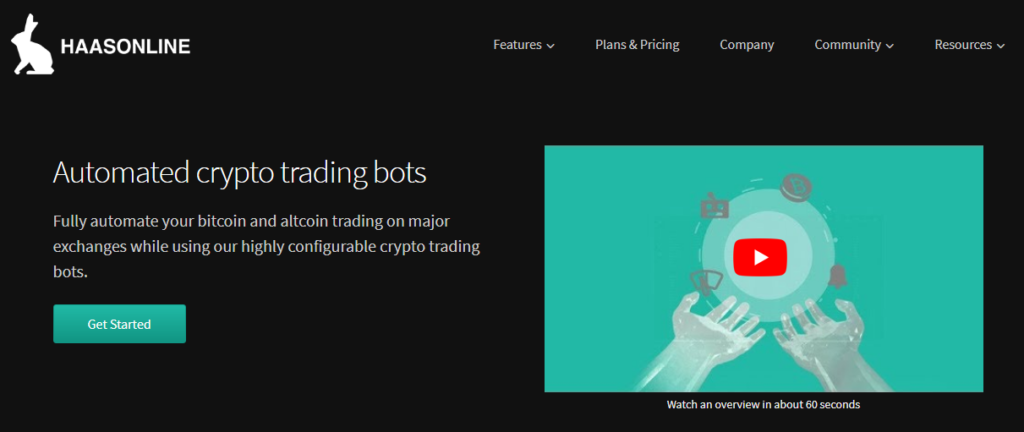 About
Haasonline
Haasonline was launched in 2014 by Stephan de Haas as a new branch of his existing company. Haasonline Software company is based in Rotterdam, Netherlands while the Haasonline Limited company is based in Belize City, Belize. De Haas is acting as the CEO of the company who has a background in software engineering. He is an early bitcoin advocate, who wanted to create the best trading tool for the crypto market. The HaasOnline Trade Server (HTS) is a full-featured crypto trading platform which includes the option to automate trading completely. 
The team behind HaasOnline has a diverse background with a couple of them having 10+ years experience in trading, therefore the executives of the company are aware of the challenges coming from the trading world.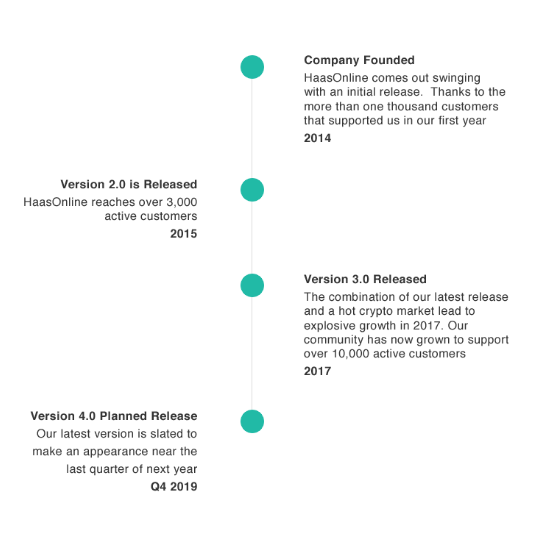 There are several social media channels where you can follow HaasOnline throughout the day. On Twitter, their 1400 followers can get to know the platform and here is where you can sometimes find some coupon codes for sign-ups, so it definitely worth checking out what is going on on this account. On Facebook, they frequently present one of the dozen bots you can use to automate your trading strategy. If you want to know everything about the software, how it works and how to use the best HaasOnline, head to their Youtube channel for tricks, tips, and best practices. You will find an interactive video about all of the bots offered and also a couple of useful information regarding programming and trading.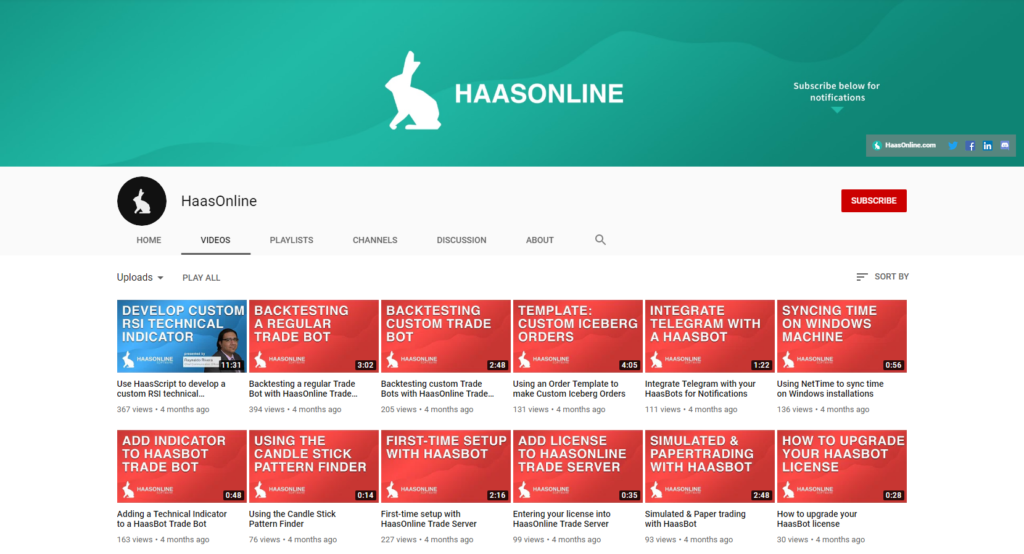 Services on Haasonline
Haasonline is a good solution for both beginners and advanced traders. They offer built-in trading bots which can help newbies to start and earn with crypto trading. While on the other hand, experienced traders can tailor the existing bot strategies to build a trading robot which will do exactly what they are looking for. The crypto trading bot software has over a dozen automated crypto trading bots which can help anyone to take advantage of changing market conditions.
The platform is the combination of an integrated exchange and a trading bot. The original crypto trading bot helps you to automate your trading strategy and lets you earn money even when you are sleeping. You can trade on multiple exchanges at the same time on one single dashboard. No more switching between multiple windows which can drive you nuts!
HaasOnline support all major exchanges, in total you can trade on 21 different exchanges, which make the platform one of the most versatile integrated exchange on the market. 
The following exchanges are supported at HaasoOline:
Binance, Bitfinex, BitMex, Bitstamp, Bittrex, CCex, Cex.io, Coinbase Pro, Deribit, Gemini, HitBTC, Huobi, Ionomy, Kraken, Kraken Futures, KuCoin, Nova, OKCoin, OKEX, OKEX Futures, and Poloniex. 
You will definitely find an exchange you would trade on for sure from this massive list. And the best from all: there is no restriction in using these exchanges in any plan, if you sign up to their service, you are free to use any of these listed exchanges with unlimited trading activity and no add-on trade fees.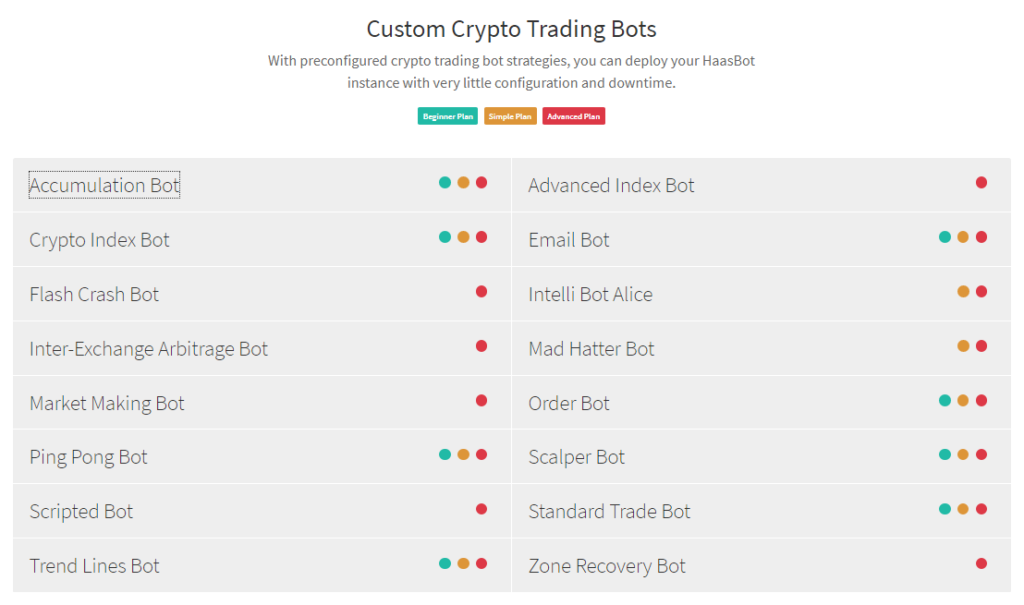 There are 16 different trading bot you can choose from which will make sure you will earn some money even when you are sleeping. Depending on your selected plan, you can pick and choose or even customize these bots.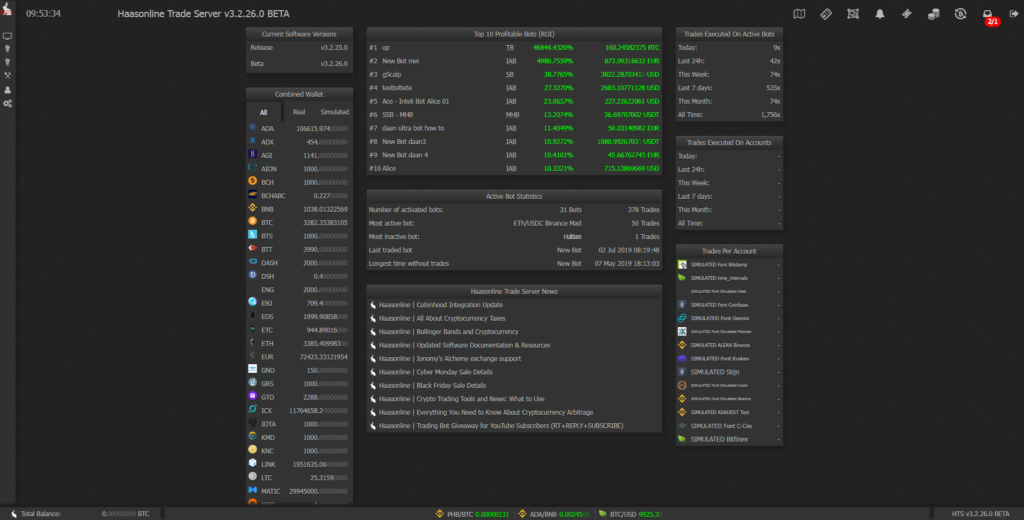 You can use these trading bots for various purposes. You can increase your position in a specific altcoin market, you can diversify your portfolio or scalp the market with ping-pong strategy. The built-in Tradingview alerts lets you act based on the indicators and signals available there. Use predefined triggers to engage in a deal or create your own ones. You can work from scratch or use one of the existing bots to tailor to your needs. All the bots are described on their GitHub page, what are they doing and how do they achieve that. You can see executed trades and historical profit results too to help you in the decision.
HaasOnline's trading bots are suitable for bitcoin and altcoin trading. You can trade with any altcoin trading pair that your desired exchange support, there is no restriction at all.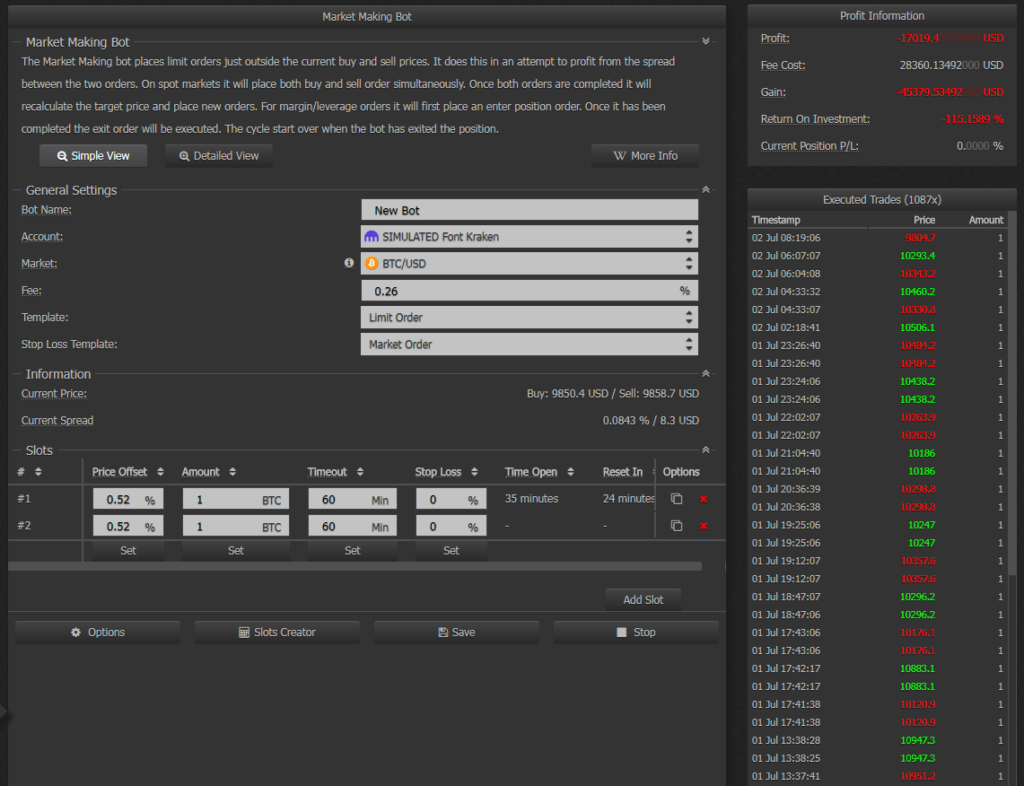 Pricing of Haasonline
HaasOnline has a transparent pricing structure to avoid hidden fees. You can choose from three different packages. 
The BEGINNER plan for 0.025 BTC lets you to run 10 concurrent trading bots at 22 exchanges. For 0.044 BTC with the SIMPLE plan, you can have access to 20 bots in total and you can also have more indicators and safety strategy you can choose from. If you would like to do, even more, the ADVANCED plan for 0.072 BTC offers unlimited bots at unlimited exchanges, using unlimited features and indicators.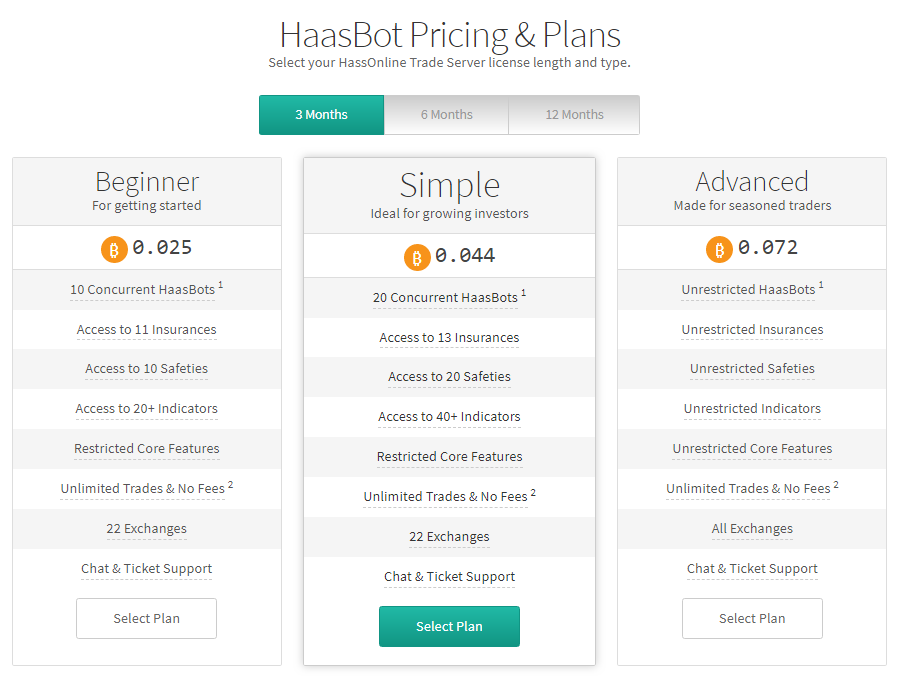 The licenses can be purchased for 3-6-12 months and the prices decrease in line with the increasing length. So if you are willing to commit yourself to a 12-month plan you can save up to 0.1 BTC on the Advanced package. 
Depending on your needs different plans can be suitable for you. HaasOnline has an in-depth comparison chart where you can compare the various features included in each plan against each other to make sure you purchase something that will worth the money at the end.
Pricing of HaasOnline is not the cheapest on the market, but in terms of value, it is definitely something worth considering given the number of options they offer together with the customizability. 
If you are not satisfied for any reason, they have a 14 days trial period within this time frame you can claim your money back. Alternatively, if you just want to try out how the software works, they offer free demo servers which run the programs where you can have a feeling of how it works in reality.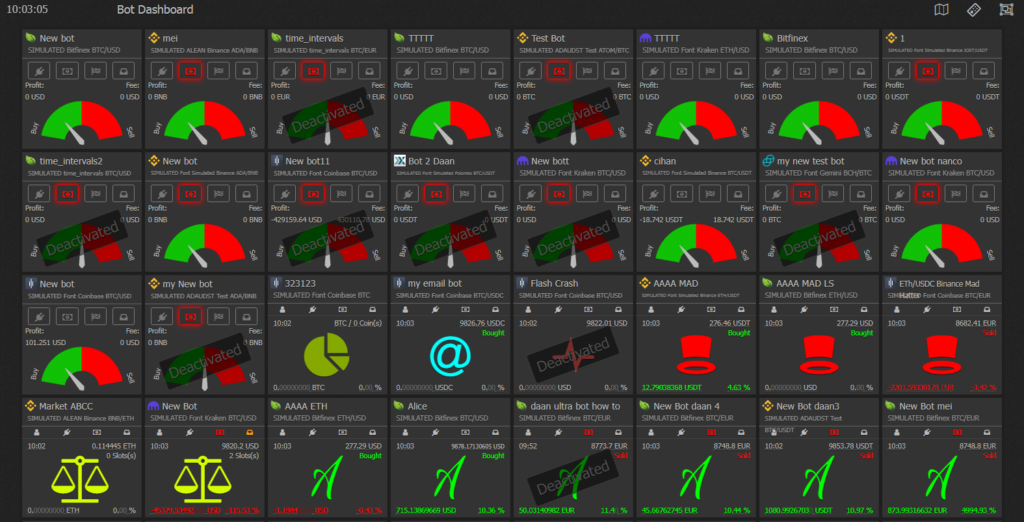 User Experience on Haasonline
Haasline has a clear interface with all the relevant information about the project you would need to get started. In their documentaion, you can find information about how to install and configure the program. The Gitbook has some valuable info on settings and offers some tips and tricks for advanced users. Make sure you check out if you want a deep dive.
The HaasOnline trading bot is running on Windows, Linux, and OSX with all major browsers supported, including Edge, Chrome, Firefox, and Opera.

Haasonline has a live chatbot embedded on the site, so if you have any quick question you can ask the bot directly and it will do its best to respond to you with the information you need. Beyond this, you can always chat with one of the team members or open a ticket through the platform.
Conclusion
HaasOnline integrates 22 different exchanges and offers automated trading robots that you can customize yourself. The platform offers three different plans you can choose from each has a different amount of bots and exchanges. The native altcoin support let you trade with any coin your exchange supports. HaasOnline is a really great option for those who want to automate crypto trading, probably suitable best for those who already know a bit about cryptocurrencies and trading.
Pros
highly customizable bots

native altcoin support

supporting 21 exchanges
Cons
only bitcoin is accepted for payment

the prices are a bit high

might not be suitable for newbies