Gunbot.shop Trading Bot Review
Gunbot Review
Gunbot is the ultimate crypto trading bot for every trader who would like to automate order execution and have an autopilot passive income generator for once and all.

About Gunbot
Unfortunately, there is no information on the site about who is running Gunbot.shop from the background.
On the forum of BitcoinTalk, the announcement of Gunbot was posted on December 14, 2016, by a user called Gunthar, who is still an active member of the crypto community nowadays and answers users questions on a regular basis on the platform. Gunthy.org the first thread appeared about Gunbot in 2017 offering technical support on the program for those who are interested.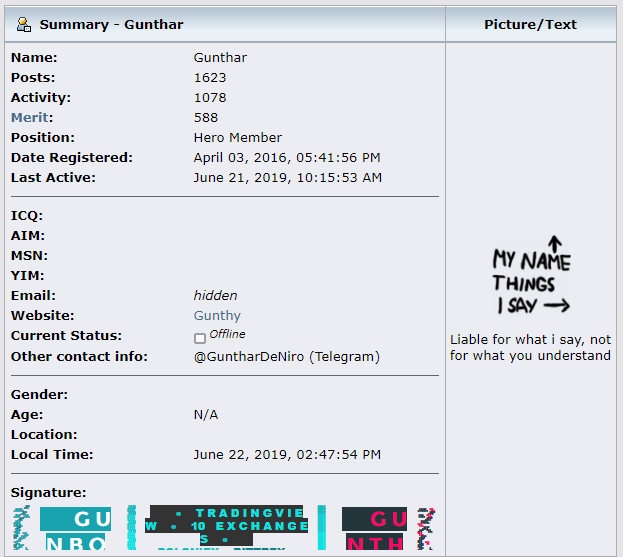 Gunbot runs a blog, where you can read about technical updates done on the platform. On their wiki page, you can read all the necessary information you need for getting started or maintain the bot.
They are not actively present of any social media network.
Although there are not much information available about the background of Gunbot, all of the strategies are clearly and transparently detailed out on their wiki page so you can easily modify the code if you want to.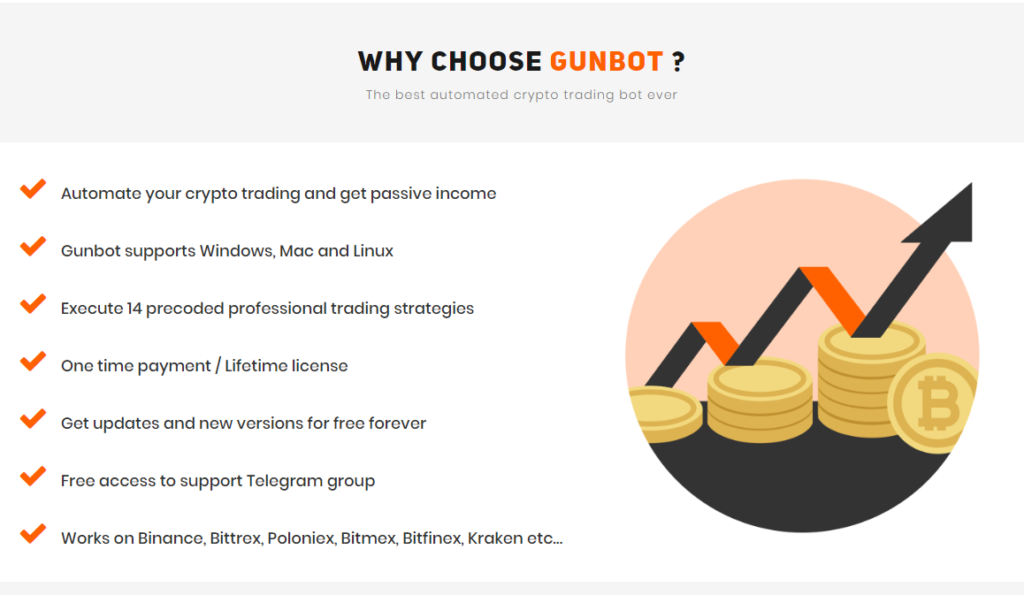 Services on Gunbot
Gunbot offers 14 built-in professionally precoded trading strategy you can use on various exchanges. It's able to execute well-known trading strategies like using technical analysis, including Bollinger Bands, MACD, Ichimoku and many more. This enables true emotionless trading which is purely based on your strategy with no frictions.  Furthermore, you can also tweak the default parameters and create your own trading strategy.
Gunbot supports all major cryptocurrency exchanges, including Bittrex, Poloniex, Bitmex, Coinbase Pro, Binance, Bitfinex, Kraken, Kukoin, Cex.io, and Huobi. Supporting the automated trading experience on Cex.io is a unique service on the crypto trading market.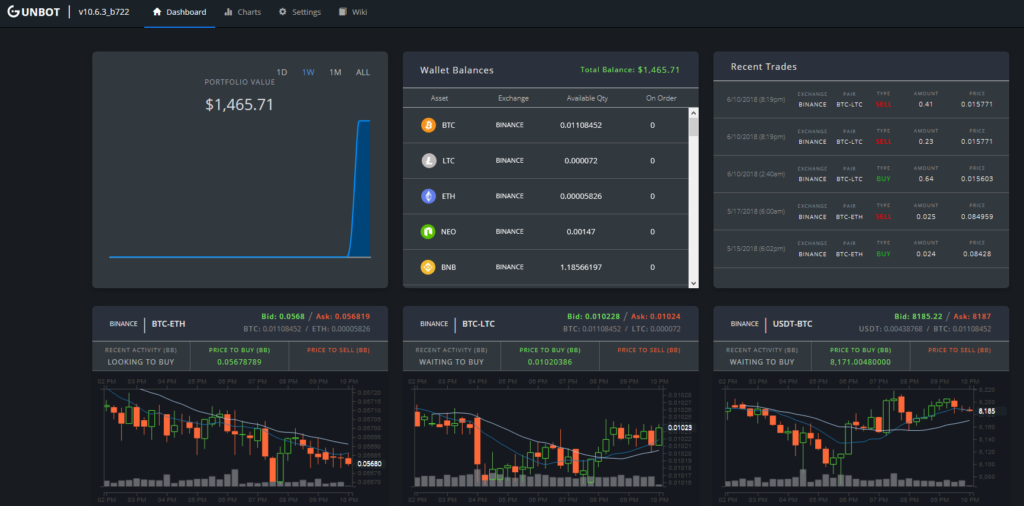 You need to download a program to be able to run Gunbot, but you can use the program from Windows, Mac, and Linux. Gunbot is very low resource demanding, it can even run in any laptop or even in a raspberry. They also suggest running Gunbot on a VPS through which you can avoid running a computer 24/7.
Gunthy token verifies the license ownership via their blockchain. Each license requires a certain number of Gunthy tokens and each Gunbot license comes with the required amount of Gunthy tokens to run it.
Gunbot can execute trading strategies automatically by buying and selling on preset exchanges. After downloading you need to configure the bot and add the coins you want to trade with.
With the TradingView Addon execute buy and sell signals directly from traders from TradingView.com. Just choose one reputable scrypt and Gunbot will check for buy and sell signals in your email every 2 seconds. This way, the trading signals will be executed 24/7 on autopilot, and much faster than any human trader.
Pricing on Gunbot
Gunbot offers three main packages so everyone can found something they are looking for. All of the packages are paid in a one-time payment which provides a lifetime license for Gunbot.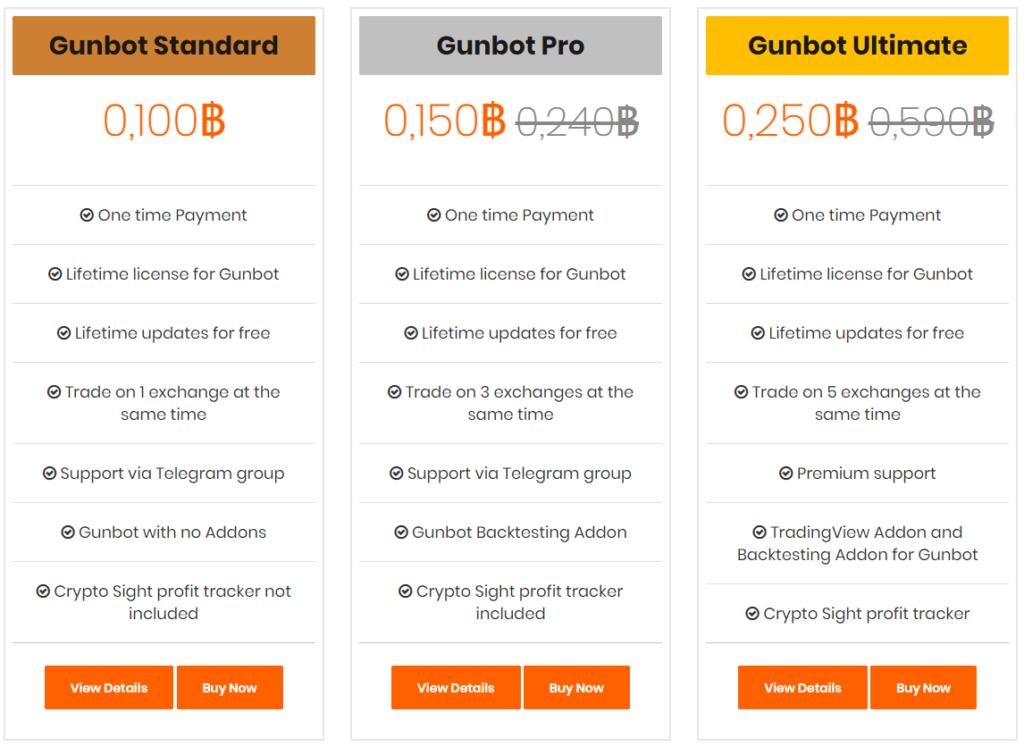 The STANDARD plan cost 0.1 BTC and provides access to 1 exchange at a time. The PRO plan with the price of 0.15 BTC opens up trading on 3 exchanges in total and offers backtesting and profit tracking features. With the ULTIMATE plan, you pay 0.25 BTC to have access to trading on 5 exchanges at the same time, with both backtesting and profit tracking.
The platform also offers further services you can purchase in addition to your existing plans. 0.025 BTC buys you premium supports or backtesting, 0.035 BTC is the price of the settings pack, which means 6 different settings to your bots including 2 strategies. Finally, you can start using Gunbot for only 0.04 BTC one time payment, which offers access to the Gunbot starter license, access to a single exchange and the option to automate your trading exercise with the option to upgrade to any main plans listed above for an extra fee.
These prices are relatively high compared to other market participants on the crypto trading bot market, but you have a great variety of services that you can pick as choose according to your needs, so you can make sure you only pay for what you truly need.
You can pay with Bitcoin, Litecoin, Ethereum and Dash on Gunbot.

User Experience on Gunbot
Although the graphical interface is designed to make things easy and simple, Gunbot is more for the experienced trader. Beginners, however, can opt to pay for initial setting of strategies so the services can be used by novice traders as well.
On the dashboard you are able to check your portfolio value, the charts of all the pairs, including the most important trading indicators, your balance for each coin, and your recent trades. At the same time, the experienced traders can enjoy advanced features such as trading indicators, reversal trading, and dollar cost averaging.

In the VIP Zone, you can find tutorials, videos, tips, configs for Gunbot but this zone is only available for those users who have purchased Premium Support. You may want to visit the Wiki page first where everything is detailed how the strategies work.
You can reach Gunbot using the form on their contact us page, email or via live chat including Telegram group, Whatsapp and Skype. Gunbot provides 1 on 1 support, including remote support via Teamviewer in the context of Premium Support service.
Conclusion
Gunbot offers automated trading opportunity and auto-executing strategies on major cryptocurrency exchanges. Although their prices are a bit higher than the market average the offered services have a really great variety and you can tailor the trading strategies directly to your needs. Gunbot probably most suitable for those who have some trading experience in either cryptos, trading or programming, but they offer premium support service for an extra fee which lets even newbies trade like a pro.
Pros
premium support available
supporting trading bots on Cex.io
several indicators are available
Cons
no fiat payment option
you need to download a software on your desktop
higher fees